Who am I?
Personal Details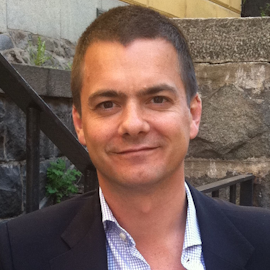 Name: Peder Dinkelspiel
Date of birth: 9 January 1972
Nationality: Swedish
Phone: (+46) 070-77 66 55 8
Email: peder [at] foodfriends.com
Professional Profile
In 2004 I was approached to build one the world's first big social networks - aSmallWorld in 2004. I stayed with aSmallWorld two years. In 2006 I left to create the first web based table management system for restaurants (www.waiteraid.com). WaiterAid is today the leading system for high-profile restaurants in Sweden. I have also founded FoodFriends which is a business network for the restaurant industry and MyCourt (www.mycourt.se) which is a system managing court bookings for racket sports.
My Professional Background
Work Experience
2003 October

-

Present
founder & CEO
WaiterAid
WaiterAid was created at a time when web based table management did not exist. Restaurants either handled their bookings by pen and paper or by using expensive systems. Although good, they did not appeal to the small and middle-sized restaurants. I saw a need for something different - simpler and more affordable and thus created WaiterAid.
While the industry tilted their focus towards the portal where guests place their reservations, WaiterAid kept focus on building the ultimate system for the restaurant and higher level of personal service, WaiterAid slowly increased their market share. WaiterAid is currently the preferred partner for restaurants that want a high level of customization, personal support and a fair pricing model.
2006 March

-

Present
Founder & CEO
FoodFriends
FoodFriends is a business network for the restaurant industry. FoodFriends offers various web based tools that simplify the day to day business for restaurateurs. On the FoodFriends website (www.foodfriends.com) restaurants can sign up for the Staff Planner which is a system that completely covers the working hours of the staff. In the TimeLog app staff can check in and out from shifts. The schedule can be easily managed, and then the manager approves the hours, which generates a file for salary payout.
2015 August

-

Present
co-Founder
BokaBord
We want FoodFriends to be seen as "The Restaurant's Best Friend". The growth shows that we are on the right path of achieving that goal. At a certain point we felt that we also needed a site that could guide guests. Most Michelin star restaurants are connected to our platform and thus we should be able to offer something unique. While most competion focuses on promotions and deals we created BokaBord to help guests find openings in popular restaurants.
2010 May

-

Present
Founder
MyCourt
After spending several years building a reservation system for restaurants, that yet had not taken off, I started looking into other businesses where we could use our booking platform. We were approached by The Royal Tennis Club in Sweden, KLTK, and decided to clone and modify WaiterAid with the goal to become the leading racket booking site in Sweden. MyCourt has from the start been run by my partner, Gustaf Wiiburg, who shall take full credit in MyCourt's success.
2004 February

-

2006 October
CTO & Product Manager
aSmallWorld
In 2003 I had built a small social network in Sweden which was the reason to why Erik Wachtmeister presented me with a business plan about an invitation-only social network called aSmallWorld. As Erik Wachtmeister had so many connections with people around the world, I was happy to join the team and build the first version that was launched in March 2004.
The two years at aSmallWorld were my most exciting years to date. I am still greatful that I had the chance of being part of a tech-phenomena that grew immensly and gained so much public attention.
1994 September

-

1998 June
Uppsala Univeristy
Ecnomics
Description
I studied economics and finance in Uppsala. I finished my major in Economics but as I still have some courses unfinished I don't have a complete degree. I am being told that it will be something that I will regret one day. That day has not yet come.
Get in touch
Please feel free to contact me for whatever reason.
My Address
FoodFriends AB
Styckjunkargatan 1
114 53 Stockholm
(+46) 070-77 66 55 8
peder [at] foodfriends.com
I'm also on social networks
Send a message